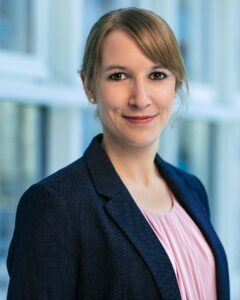 Dr Vanda Rothacker joined Union Investment's portfolio management team in 2018 as an ESG analyst focusing on corporate governance. She is responsible for voting at annual general meetings and represents the interests of Union Investment investors in regular dialogue with the chairs of the supervisory boards. Both at company meetings and through her committee work, she is committed to improving corporate governance in companies.
She was previously a research assistant at the Chair of Corporate Governance and Auditing at Johannes Gutenberg University in Mainz, where she completed her doctorate in 2018. As part of her research, Mrs Rothacker focused on the role of institutional investors and proxy advisors in German corporate governance and spent time abroad in Warsaw/Poland and Dalian/China.
Mrs Rothacker holds a bachelor's degree in economics with a focus on finance & accounting and a master's degree in management with a focus on corporate governance and controlling. She studied at the Johannes Gutenberg University Mainz and at the Université 1 Montpellier/France.